Today is National Women's Health and Fitness Day, which is not a holiday created by our athleisure overlords, as I originally suspected.
It is, in fact, a day aimed at promoting the health and wellbeing of women across the country – a worthy cause, though I'm not exactly the poster child for it.
I am not healthy. I don't exercise regularly, unless you count all the calories I burn by aggressively navigating the sidewalks of New York City, a city populated with pedestrians who apparently haven't trained as hard as I have.
The only real workout I get is from my fitness hula hoop, a weighted and less whimsical version of the toy you may have used as a child. But I typically only get in a few rotations before I ditch the hoop and succumb to the overpowering gravitational pull of my couch.
And it's probably for the best; the couch is a much safer place for someone like me. A steady diet of candy and Dr Pepper has almost certainly turned my bones into Pixy Sticks. One wrong move and my tibia could snap like the paper tube it is, unleashing all that sugary marrow.
But ahead of National Women's Health and Fitness Day, I decided to make a change.
As someone who has covered sports for many years, I have witnessed firsthand the athletic grace of Gabby Douglas, Lindsey Vonn's strength and stability, and the power and stamina of the U.S. women's national soccer team.
These women are my #fitspo, and it was their regimens I turned to for guidance.
Workout 1: Core, hips and glutes with Gabby Douglas
I started with Douglas, whose gravity-defying gymnastics helped her win three Olympic gold medals. Her 15-minute workout seemed easy enough, and I was heartened by words of encouragement from Gabby, who implores fitness beginners to believe in themselves.
For most of this workout, which targeted "the small muscles that sometimes get missed," Douglas is lying in repose, casually lifting and twirling her legs in the air. But each motion is a struggle for me, and I feel the burn in muscles I didn't even know I had.
Throughout the session, I'm reminded of what former U.S. national team coordinator Martha Karolyi told me about Douglas when the gymnast made her comeback ahead of the 2016 Olympics: "Gabby has the perfect body for gymnastics." Every muscle of hers does exactly what it's supposed to, while every fiber of my being urges me to give up.
Despite taking enough breaks to double the suggested 15-minute time frame, I completed the regimen, as pleased with myself as Douglas is when she sticks her dismount.
Workout 2: Stability balling with Lindsey Vonn
My next sensei was Vonn, the 2010 Olympic downhill champ who has battled back from multiple injuries to have one of the most decorated careers in alpine skiing history.
Her workout centered around a stability ball, which I was using for the first time.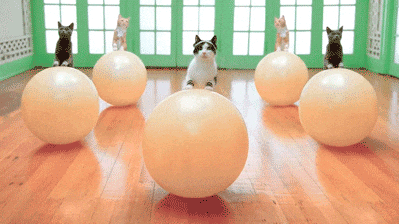 I quickly learned that both the ball and my body lacked stability, as I rolled unceremoniously to the floor during my first attempt at a plank. I did what any good athlete would do and blamed the equipment — the ball (like my ego) must be deflated.
Eventually I got the hang of it, and after a few reps I swore I could feel abs forming where previously there had been none. Vonn's exceptional core and lower-body strength allows her to careen down the slopes faster than nearly anyone else in the world. I'm merely looking for the type of core power that could help me hoist myself off the couch without a struggle.
Workout 3: Endurance circuit with the USWNT
I was hoping after exercising twice I would be bitten by the sort of bug that drives many people around me into the gym every day. Instead, I reverted back to my unhealthy ways almost immediately, chasing Vonn's workout with a breakfast of Cheez-Its.
I tried to convince myself that I was carbo-loading for my third and final workout — the USWNT's training circuit. The first part of the circuit was to run a mile as fast as possible, so I sped off like I was Alex Morgan chasing the ball down the field.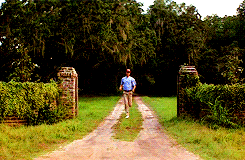 Certain I had broken the four-minute barrier, I crossed the finish line and checked my time, surprised to learn that I clocked in at 7:18. Still, I was proud that I finished.
But I had no time to pat myself on the back or take what I felt was a well-deserved nap. The next part of the workout required me to cycle through 30-second intervals of pushups, squat jumps, planks and other exercises.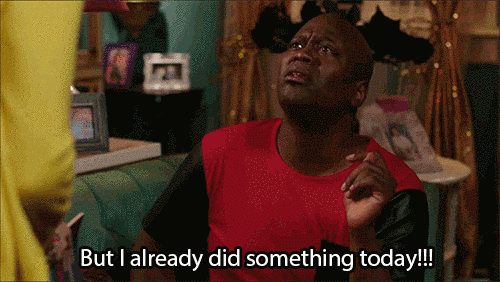 My already-exhausted body protested, but I lumbered through the routine. I collapsed to the floor when I finished, the effects of all three workouts compounding.
Yet by the time I get myself dressed and ready for work, I'm more energized and focused than usual. And at the office, I get to tell people I worked out, which results in the sort of self-righteous high that must be the driving force behind most gym memberships.
In the end, I know I'm never going to win a World Cup or a gold medal. But in emulating these athletes, I've found my motivation to be healthier. And if someday hula hooping gets added to the Olympic program, I'll be ready.